Patents Trade Marks Designs Copyright
Part Four – Party Election Manifesto Analysis on Intellectual Property and Research and Innovation: Liberal Democrats
May 06, 2015
In the fourth part of the Election Series, Mahir Raoof looks at what the Liberal Democrats offer in their manifesto in regards to intellectual property, research and development and innovation.
Led by the Deputy Prime Minister Nick Clegg, the Liberal Democrats are the current minority partner in the coalition government. The party traditionally hold centrist views focusing on economic and social freedoms. During the election campaign in 2010, the party experienced a widespread surge in popularity on the back of Nick Clegg's performances in the television debates between party leaders. Many feel that the Liberal Democrats will find it increasingly difficult to achieve a similar feat this time round due to their record in government.
The Liberal Democrats have, by some distance, the longest manifesto, as they address areas in great detail with statistics, and highlight their track record and their 'promise of more.'
The manifesto opens with some very bold and inspiring claims about what the party will seek to achieve. The Liberal Democrats state, 'We will be leading the world in the technologies of the future.' This is quickly followed by, 'Britain will be the place to be if you want to thrive in advanced manufacturing, science, creative, digital and green industries and our country will be open to ambitious entrepreneurs and thinkers from overseas.' These are promising statements, easily made, so what do the party pledge to make this a reality?
The Liberal Democrats state that they will double the spend on innovation in the economy to make the UK a world leader in advanced manufacturing, clean technology and digital industries. The party has also identified digital and advanced manufacturing as technology areas of importance, describing these areas as having the capacity to transform people's lives.
An area of focus for the Liberal Democrats seems to be to continue driving investment within these technologies as well as supporting R&D through catapult innovation and technology centres.
Catapult centres were first established in 2010 following a report which highlighted a gap between research findings and their subsequent developments into commercial propositions. While still in the early stages, a 2014 review by Dr Hermann Hauser recommended that the seven initial catapult centres grow to thirty by 2030 with annual funding in the region of £400m.
The same 2014 review highlighted how for every £1 of public investment within collaborative R&D, there is a gross value added return (an economic measurement of the value of goods and services produced within a sector of the economy) of £6.71 – a huge return that it seems would make good sense to maintain.
The manifesto goes on to state that the party will work with sectors 'critical to Britain's ability to trade internationally including motor vehicles, aerospace, low-carbon energy, chemicals, creative industries and offshore and subsea technology.' These areas are perhaps likely to be the focus of future catapult centres in an effort to drive more R&D and innovation within these spaces.
The manifesto has a section entitled 'Securing global leadership in technology' under which many of the party's technology commitments are made. Within this section, a few of the party's pledges include:
'Complete the rollout of high-speed broadband to reach almost every household (99.9%) in the UK as well as small businesses in both rural and urban areas.' The Office for National Statistics claims that in 2014, 91% of households had access to broadband whilst only 1% of those who don't have broadband put the reason as 'not available in the area'. This appears achievable although 100% coverage should arguably be the aim.
'Build on the success of Tech City, Tech North and the Cambridge tech cluster with a network across the UK acting as incubators for technology companies.' Tech North was launched by Nick Clegg in 2014 to bring together the existing digital technology expertise of Manchester, Leeds, Sheffield, Liverpool and Newcastle. It is a very welcome initiative especially when considering developments such as the HS2 rail link as the government increasingly starts looking beyond the M25. Tech City (originally referred to as the Silicon Roundabout area of East London) is funded close to £2m a year so it will be interesting to see how much investment Tech North will receive.
'Support fast growing businesses that could create a million jobs over 20 years following the Sherry Coutu report into these scale-ups.' The report, compiled last year, consists of 12 recommendations for scale-up businesses which the report defines as, 'An enterprise with average annualised growth in employees or turnover greater than 20 per cent per annum over a three year period, and with more than 10 employees at the beginning of the observation period.'
Whilst certainly promising for businesses that fall within this definition, the manifesto doesn't state what form the support will entail and which, if any, of the 12 recommendations will be put in place.
Mental health is an area that is becoming increasingly prevalent in government policy and the Liberal Democrats have been praised for pushing the agenda. In March of this year, the party set out an extra £1.25bn to spend over five years on mental health services. Their manifesto also addresses mental health issues in quite some detail and includes a pledge of establishing a world-leading mental health research fund by investing £50m to further our understanding of mental illnesses.
With regard to Intellectual property rights, the manifesto states that the party will support, 'Modern and flexible patent, copyright and licensing rules.' It will certainly be interesting to see what the definition for 'modern' is here and therefore what effect that definition will have on the current rules.
Green technology is also a very big focus for the party as the Liberal Democrats write that they would, 'Increase research and development and commercialisation support in four key low-carbon technologies where Britain could lead the world: tidal power, carbon capture and storage, energy storage and ultra-low emission vehicles.'
The Liberal Democrats have a track record within the green technology space as in 2014 the party announced a £500m funding package for boosting the ultra-low emissions and electric vehicles' market. The party have set a target of only permitting vehicles with ultra-low emissions onto UK roads by 2040 and it seems this is a challenge that they are willing to support.
The Liberal Democrats also state that they will continue to ring-fence the science budget and ensure that by 2020 both capital and revenue spending has increased at least in line with inflation. The current science budget is set at £4.6bn which is mainly allocated through research councils and universities. Such assurances and promises of investment will be much welcomed though whether they go far enough is certainly a question to be asked particularly as the party have an ambition of overtaking France and Germany in terms of economic growth.
In conclusion, the Liberal Democrats have a particular focus on both green and advanced technologies and have the track record within these areas through their commitments to developing the network of catapult centres and investments within clean technologies.
Innovation is a key phrase appearing 21 times within their manifesto as the party seek to encourage an innovative culture throughout the country in pursuit of growth. If they do return to government, it will be very interesting to see just which of their policies they are able to implement and which they have to abandon.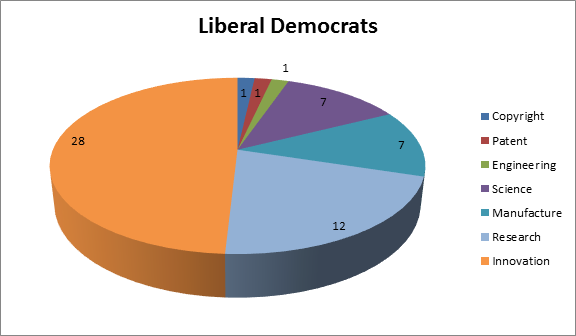 For further information please get in touch with your usual contact at Swindell & Pearson or [email protected]