Patents Trade Marks Company
Swindell & Pearson Announces Appointments and Promotions on back of Successful Year
December 02, 2014
New faces as Swindell & Pearson Ltd looks ahead to 2015.
New faces as Swindell & Pearson Ltd looks ahead to 2015 Swindell & Pearson Ltd is pleased to announce a number of appointments and promotions as the firm steps up its growth plans on the back of a successful 2014. Natalie Dyer and Natasha Hybner have been promoted from IP Paralegals to Trade Mark Advisors and Robert Lambton has been appointed as a Patent Advisor. Mahir Raoof has also been brought on board as Business Development Manager to further drive business development and establish an even stronger presence within its regions. Paul Higgin, IP Director commented: "We've had a fantastic year. We continue to expand our diverse client base and we are continually looking to employ the very best to join our team. I'm delighted with this expansion." Nick Womsley, IP Director commented: "We've established ourselves as the go-to firm for brand protection, in part, by winning high-profile litigation for our clients and this expansion will help us deal with increasing demand." Natalie and Natasha both joined in 2012, working their way up to IP Paralegals and on to Trade Mark Advisors with the ultimate aim of becoming Trade Mark Attorneys. Robert joins from university having studied Physics at Durham and will be working towards qualification as a European Patent Attorney. Mahir previously worked for a leading London search firm specialising within the private equity space.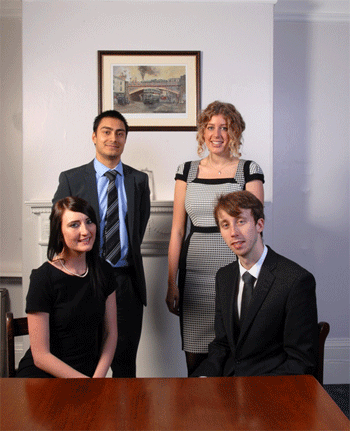 From left to right: Natasha Hybner, Mahir Raoof, Natalie Dyer and Robert Lambton.