Considerable Gains – How Peak UK's Innovative Life Jacket Helped British Canoeing Deliver Gold at Rio 2016
October 17, 2016
The Peak District and its surrounding towns and villages are a stunning location that one could easily spend a lifetime exploring. Amongst the many wonders of this region is a small purpose built factory that any passer-by would not so much as glance towards. From the outside, it could easily be a local farmer's warehouse yet this building is not only home to one of the world's leading brands of kayak wear but a company that undertakes genuine world class innovation which has led athletes who wear its products to the pinnacle of their sports.
Peak UK was founded in 1990 by Managing Director Pete Astles. The company manufactures its own brand sporting apparel and equipment catering for both the amateur water sports' enthusiast as well as elite athletes of whom Peak UK sponsors many, including two time Olympic gold medallist Michal Martikan, current Olympic champion Joe Clarke and two time Olympic silver medallists Richard Hounslow and David Florence.
The company is based in Darley Dale and it's a fantastic location for anyone who loves the outdoors. The River Derwent is just a stone's throw away and the team will test out some of their latest products on its waters.
The idea for Peak UK came back when Pete was a promising slalom racer training with British Canoeing. An unfortunate illness meant that he was out of action for a while and so, restless, Pete turned his attention to the kayak equipment store where he worked part time.
"The quality just was not there", Pete recalls. "You had these athletes who were training extremely hard all the time and the equipment they were using was not up to standard". In the mould of an entrepreneur, Pete knew he could do better and so set about making his own jackets from the mind-set of an athlete. The first batch of jackets went down extremely well with his canoeing team mates, giving Pete a new calling in life. Initially a large manufacturer was contracted to bulk produce the jackets, but the order wasn't manufactured to the standard hoped for, and so Pete purchased a sewing machine, the fabrics and the foam, learned how to sew and set about making the jackets himself.
"I knew there was a real opportunity here to create good quality clothing that many of these athletes needed. I obtained an initial loan from my dad, which I used to purchase the basic equipment and materials to get started. Thankfully my dad was an accountant so aside from providing me with the money he's acted as a business advisor which has been really helpful".
Pete stayed close to British Canoeing, coaching the under 23s at the time, and he was able to talk directly to the head coaches and athletes who instantly recognised the benefits of his jackets.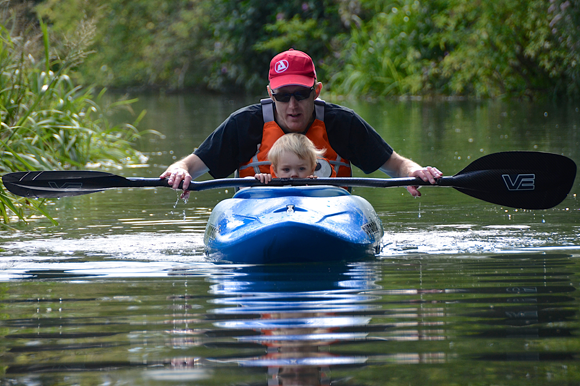 Image: Pete and his young son Alfie

Over time, the company continued to create innovative products and developed closer working ties with British Canoeing. Peak UK had established a reputation as the elite athletes' choice with its products in action at championships all over the world.

"We started out aimed at the elite athletes but over time we've increasingly sold products to the mass market as people take a greater interest in water sports. Today perhaps 90% of our sales are to the general public but it's the revenue from those sales that allows us to invest in creating products for the elite athletes".

I'm here to learn about the Racer ST. Peak UK's innovative canoe lifejacket that the company specifically designed for Team GB's canoe athletes for Rio. When I ask where the idea for the Racer ST came from, it's a simple answer – "We wanted to be better than the competition". It's a product that Pete proudly describes as providing "Not a marginal gain but a considerable gain" and the evidence certainly backs him up.

With great passion, Pete gives me a crash course in canoe life jacket innovation. "With a normal lifejacket, there is 50mm of buoyancy foam and it's all on the torso of the athlete. This gives an athlete a slight extra bit of mass, making it more difficult when passing through the gates in races. So the obvious challenge was to do something here".

"I carefully studied the International Canoe Federation (ICF) and ISO 12402 safety rules and regulations for life jackets ". At this point Pete's eyes really light up. "I noticed that the guidelines state that life jackets have to comply with the industry standard ISO 12402-5 (Level 50) and have to pass the competition test of floating a 6.12kg calibrated stainless steel weight or equivalent in other metals. But nowhere did it say that the buoyancy foam had to be located on the athlete's body".

"We designed the Racer ST to be a three-in-one garment combining a paddling jacket with the buoyancy aid and the spray deck. As the spray deck does not come into contact with the athlete's upper body, we decided to move 30mm of the buoyancy foam into the spray deck leaving an athlete with only 20mm on his or her torso, and this now gives them a greater margin of error when going through gates".

"How did the ICF respond?" I ask.

Pete smiles, "They were absolutely fine, although they did want to see the entire test report, not just the approval certificate as. The important thing for them was that I complied with all of the standards. It (Racer ST) met all of the testing regulations".

"There are understandably a lot of safety regulations because of the nature of the sport and all of our products comply with every single one them. But getting the Racer ST approved for use in Rio was certainly challenging and perhaps one of the most difficult parts of the entire process".

"Aside from having to submit all of our testing information over to the ICF, we were required to have the jacket commercially available for sale on our website. That's obviously something we didn't want as we were trying to keep it a secret to stop it being copied by another team or manufacturer in time for Rio".

To get around this, Pete put the Racer ST in a corner of the Peak UK website, with a very high price point and a long lead production time. That way it would attract little attention, but satisfy the ICF requirements.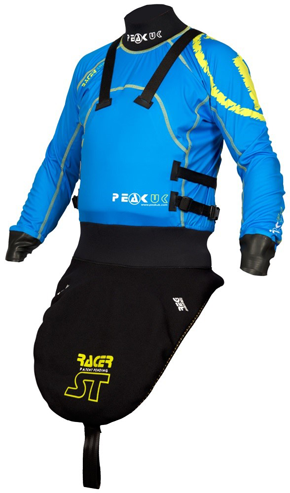 Image: The Racer ST

After all that did he watch the Olympics?

"I did and it was great. I can't say I wasn't nervous watching the races because with the slalom if you touch a pole you're likely out of a medal place given the strength of the field. The races are decided on just a few milliseconds".

The difference between Joe Clarke who wore the Racer ST taking gold and fourth place in Rio was 0.49 seconds so it's clear to see just how tight these margins are and how every little advantage gained counts. In addition to Joe, the Racer ST was worn by Richard Hounslow and David Florence as they picked up silver in the Men's Canoe Slalom Double (C2).

"Rio was the culmination of a four year collaboration between us, British Canoeing and the English Institute of Sport (EIS) in creating the Racer ST. It was the perfect opportunity to launch on perhaps the biggest stage. From a personal point of view, every bit of success that was achieved was an excellent endorsement for our company and of course it was great to see the athletes achieve medals as that was what the Racer ST was designed for".

The first Monday following the closing ceremony, Peak launched the Racer ST across social media with a series of articles and videos referring to the Olympics' success. Within the week a video posted on the company's Facebook page had generated over 30,000 views with orders for the jacket being placed from all over the world.

"It's funny" Pete says, "We had to wait until after the Olympics had ended before we could 'officially' launch the product and so we had these press releases prepared for just after the closing ceremony. As soon as people learned that Joe, David and the others were wearing the Racer ST as they won their medals they started saying to me, I thought I recognised they were wearing your jackets but wasn't too sure. It's really obvious now".

The team recently returned from the 2016 Paddle Expo in Nuremberg which I'm told is the world's premier trade show for paddle sports. The Racer ST was awarded the Apparel Coolest Gear of the Year Award which Pete describes as "a perfect finish to the project".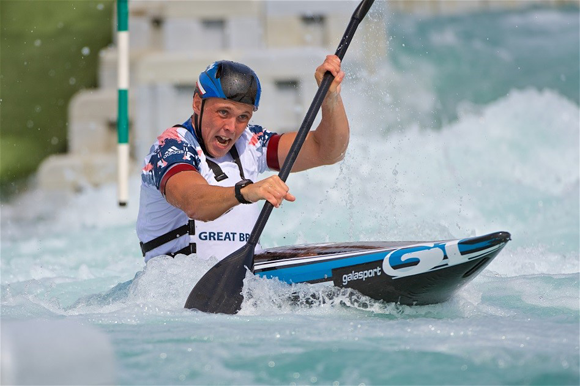 Image: 2016 Olympic champion Joe Clarke

Peak UK is an innovative business that invests in securing the intellectual property rights for its inventions and I'm keen to understand the reasons why. Pete first came across Swindell & Pearson around 20 years ago when he contacted our firm to help resolve a name dispute with a Swedish company. Ever since then, we've stayed close as Pete was impressed with our levels of service.

Pete explains, "We're an innovative company always developing new products to meet the needs of the athletes. We get a lot of feedback from professionals who use our products in the field. It works extremely well for us as the guys we are making the products for are then using them at the top of the sport. We'll listen to what they have to say and make changes to the products based on their feedback so we're always tinkering".

I ask him about the decision to obtain patent protection for the Racer ST and why in such a niche area he felt the need to invest in securing the intellectual property rights. Pete uses the phrase "Keep off the grass" several times as he explains "There are very few companies that do what we do but that's why we felt it was important to obtain the rights. A patent acts as a deterrent not only to competitors but also any firms who may see the product and try to replicate it. It's such a good, effective product that we invested a lot of time and effort into creating and we're very proud of it so why would we not want to protect it?"

Peak has filed a patent application for the Racer ST in the UK so far, but retains the ability to file further patent applications for the jacket in other countries. These applications can be backdated to the date that the original patent application was filed giving the firm some very strong protection for its innovative product. Pete is certainly someone who understands the benefits of securing IP rights so I put to him the costs and if he feels they provide value.

"I think when you are a smaller company, perhaps starting out, though obtaining patent protection could definitely be of use, it can be difficult to go through the process given the costs. But the quality of the patent application that was prepared was very high. It was very thorough in what it covered and Scott (Scott Harrison is Swindell & Pearson's patent attorney who worked with Peak UK) even made recommendations on capturing features that we hadn't thought of. I know of people who have written their own patent applications but the quality of what you get when using an attorney justified the expense".

Pete also mentioned that he has previously taken advantage of the current government Patent Box Scheme which allows companies that derive profits from selling patented products to pay a lower rate of corporation tax. "Patent Box made the process of applying for a patent cost-effective" adds Pete.

It's great to hear that Peak took advantage of the Patent Box. We've found that many forward thinking companies are able to make substantial corporate tax savings which can amount to more than the original cost of obtaining patent protection.

Peak and its competitors sponsor many of the elite athletes in the sport today which establishes loyalty, making it difficult for those athletes to switch equipment providers. However, through Peak's success in Rio, athletes sponsored by competitors may have to consider whether they can afford to miss out on the best possible equipment. "It's one for the future", Pete says, adding that the competition will now have to play catch up to replicate some of Peak's success. Speaking of the future I put to Pete what's next as we move towards Tokyo 2020. With the bar now having been set, how does he plan on bettering his achievements for the next games?

"There are a couple of things we're thinking about but we've got time yet to test out some ideas and see what works. We have a four year cycle now, as we did after London 2012 to get prepared for Rio and we'll continue working hard alongside British Canoeing and EIS to develop a new generation of innovative products ready to be launched at the next games".

The parallels with the athletes' own four year training cycle are remarkable. We all get caught up in awe of the athletes' heroic performances but few of us consider where they would be without their equipment and the companies such as Peak UK working hard to ensure that the athletes continue to compete at the very top level.

"We're also going to now look at what slight improvements can be made to the Racer ST. It's difficult to make substantial changes to the jacket, it's that good but there's one or two things I'm aware of so you'll simply have to wait until 2020. I certainly don't want to give away any of our development secrets".

Pete recalls my earlier question of how the ICF responded to his interpretation of their rules. "I think this time, however the ICF will be a lot stricter on what they allow through and there may be a few more forms to fill out".

"Is that because you studied their regulations before designing the Racer ST?"

A brief chuckle. "Maybe". Pete says. "We'll wait and see".

I get the feeling Pete is eagerly looking forward to his next challenge.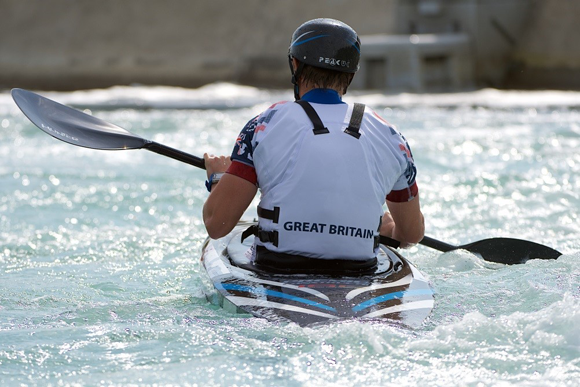 Image: Team GB Canoe Slalom Athlete Fiona Pennie

Swindell & Pearson has been helping businesses and individuals protect and defend their ideas, innovations and brands for over 135 years. With its head office in Derby, the firm also has offices in Stoke, Wolverhampton, Stafford, Sheffield and Burton. To find out how Swindell & Pearson can help you with any intellectual property requirements please get in touch via [email protected] or by telephone on 01332 367 051.